We operate all over the world

In France (click to access french website)
We have a strong presence in France where our head office is located. We serve more than 37 customers who utilize our solutions - our team of skilled and dedicated technicians operate on customer sites daily. Our logistic capabilities allow us to provide parts and consumables on time.
---
Worldwide (click to access map our local partners)
We are present internationally either directly or thru a network of local partners and agents. We are able to support your projects with our software and hardware engineers, our strong logistics capabilities and remote management tools.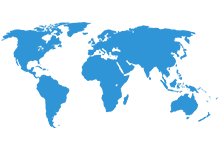 Our services include :
Installation and 2nd level support
Parts only solutions
Training for operators and technical support personnel
Software training:
---
You Need more details ?