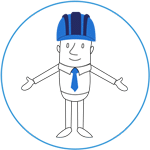 THE OJECTIVE:
Desktop Publishing refers to all the tools, services and IT resources applied to document editing.
This mainly concerns the mass production of documents of private companies or public administrations with a fixed general document structure (direct mail, contracts, invoices, account statements …) adding variable data depending on the recipient (addresses, numbers, advertising messages targeted …), which often have to be secured (and therefore compatible GDPR).
A document composition software allows the formatting of this type of documents (background of the form) and the merge with the variable data. So that the operators do not have to transform into publisher specialists, it is essential that this type of application should be simple and without coding.
Once generated, the documents must be quickly printable on any digital press and this requires the addition of layers depending on languages, protocols …, and potentially a spool (printing to multiple devices).
It is therefore important to be able to rely on flexible products according to your needs so that all stages of the composition until printing are as transparent as possible and therefore fast!
Furthermore, in a global and international environment, the support of several languages ​​and several alphabets is almost inevitable. We must therefore ensure that this aspect is available.
Just as desktop users could not do a lot without using MS @ Word under Windows, document production line operators couldn't achieve a lot without a document composition software.
HOW DOES A COMPOSITION AND PRINTING SOFTWARE WORK?
The composition engine is the heart of a publishing chain. It is a software installed on a  server to automate the production of documents in standard, electronic or printable formats.
During a composition process, the engine will need:
an information source, which will contain business data from IT systems. (variable data)
any external resources (images, documents, texts)
At the end of the treatment, the engine will produce:
a document flow in standard formats (AFP, PDF, IPDS, …)
log files, processing logs
The use of a composition engine can be done:
in batch / planned mode (usually in the case of mass production)
on-demand mode, in this case it is the client application that, following a user action, triggers a document composition
The composition engine within a desktop publishing chain can be accompanied by:
a spooler that can be used for direct flows, both at the input, at the output, and during the steps of the chain
a workflow (ADF) to ensure the orchestration of the different services to manage the printing, the enveloping, the recovery of the needs, …
• a desktop publishing environment designed to produce the forms that will be processed by the composition engine
WHY JEFEDIT ? SIMPLICITY, SECURITY AND PRODUCTIVITY?
JefEdit is a Windows-based software running in client / server mode, including a virtual environment. Monochrome, color, dynamic logos, bar code creation, multi-protocols, multi-lingual, multi-alphabets … It remains extremely simple and intuitive.
It has been developed to handle and format secure data and documents. Our developers are constantly updating it as our customers request and the latest version has been available since the end of 2017.
Its cost is flexible according to your needs and the increase in productivity relative to document management makes your operators autonomous and much more efficient which ensures a very fast return on investment.
Jacques Didier-Laurent, pre-sales engineer print control systems.