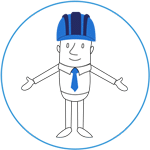 THE QUESTION : The MICR what for today?
– First point, what does the MICR stands for and what is it for?
MICR (Magnetic Ink Character Recognition) printing consists in printing characters that will require magnetic reading and are often used for printing checks. This requires special printers with special fonts and magnetic ink or toner to produce characters that can be read by electronic data processing systems, such as those used for bank checks.
MICR printing is therefore a global process requiring the creation of these fonts and characters and therefore a knowledge of  the upstream of printing for the composition of a secure document.
The MICR is also generally used to print any valuable document such as checks, gift vouchers, lunch vouchers or negotiable documents such as remittance vouchers or loan bonds, for example.
One of the main advantages of this mode of printing is that it allows you to produce at a lower cost, because no special paper is required. Another advantage is to avoid the potential risks of malfeasance, as well as certain manipulations, such as changing media whenever it is appropriate to print checks of a particular type or associated with different bank accounts.
– The different coding systems
It was in 1950 that the banking industry began using magnetic characters to improve the reading process and thus the processing of checks. These characters MICR are found at the bottom of the check and must respect different coding systems, the CMC7 or E13B according to the country in which they are printed.
The E13B was developed by Stanford University and Bank of America. It is used in the United States, Canada, England, Australia, Mexico and some countries (Japan, Hong Kong, China, India).
The CMC7 has been developed in France to improve the quality of reading. Today it is used in Spain, France, Latin America and some African countries.
In other countries, such as Germany, OCR (Optical Character Recognition) has been chosen for check processing.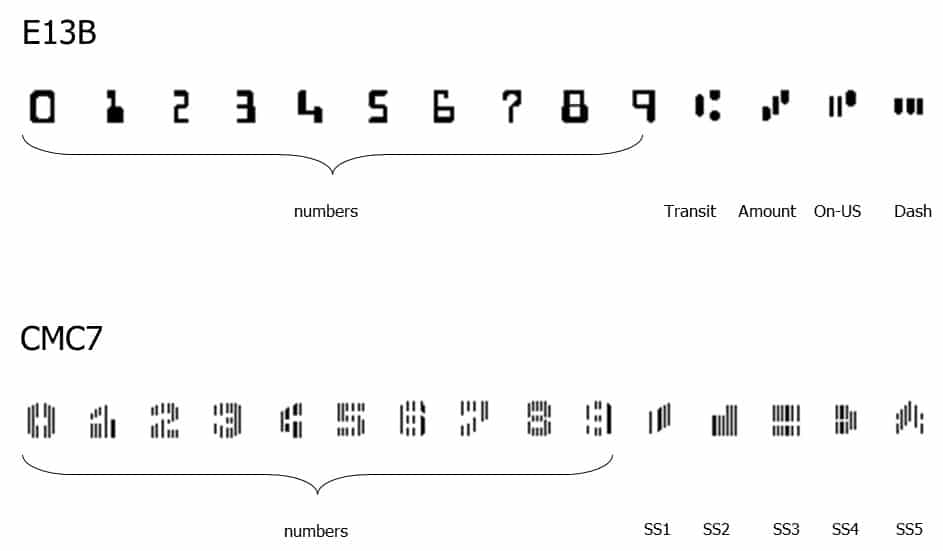 The 14 characters of the E13B, for example, form a single frequency during the magnetic reading of the character
WHAT ARE THE MICR APPLICATIONS AND OTHER MAGNETIC PRINTING TECHNIQUES FOR SECURING A PRINTED DOCUMENT?
The MICR thus secures the document when it is printed and participates with other techniques such as micro-characters, digital watermarks, barcodes, guilloches, invisible or fluorescent inks, secure papers … in the fight against falsification of a paper document.
Beyond MICR characters, magnetic printing must also be indestructible, unless it destroys the substrate, and the toner or ink must not be copiable to ensure its authenticity, as for stamps for example.
The magnetic printing must of course be associated with a reader that will be able to read according to the magnetic intensity of the toner or ink through a car windshield for a vignette for example, or an invisible magnetic character or fluorescent under a UV lamp. This simple magnetic check allows in a first step to understand if the document was falsified or not.
Furthermore everything that is magnetic must also be able to print on holograms without altering the surface as for driving licenses or diplomas … or so-called complex substrates such as metal or plastic films, various weights … for printing and reading barcodes for example.
We must therefore consider not only the ability to produce an MICR character for certain documents such as checks but also the magnetic charge of printing for the production of other secure documents to ensure legibility or even its origin.
WHY 2J PRINTING IS A PARTNER OF CHOICE IN THIS FIELD
The company 2J IMPRESSION was founded in 1994 and will celebrate 25 years in 2019.
2J IMPRESSION has a long experience of hardware distribution and software publisher in the MICR domain. Pioneer and leader of Nipson Technology's distribution for check printing and magnetic printing in general, 2J Impression has also developed and regularly upgraded its software suite JefEdit and approved new partners such as PSI or Troy in the same field for smaller volumes MICR continuously or page to page and checks on demand.
Thanks to this experience accumulated over many years, we have evolved in the field of print security. We position ourselves as the integrator of the printing chain in this sector, with consulting capabilities to support choice of printing equipment but also software development (eg bar codes) or hardware (eg magnetic readers), control solutions for  quality and integrity (ref our JefControl solution)
Coming from the world of high-speed production and high volumes, we have serious references to the reliability of the solutions in place at our customers and have demonstrated our ability to adapt to the needs of our customers, such as the variability of the magnetic level. toner developed for some applications.
Jacques Didier Laurent, MICR and secure document composition software expert.